AFL was awarded the Kriz-Davis 2016 Supplier Partner of the Year Award. The award was presented for combined overall growth in sales dollars, growth in the percentage of sales, overall growth and collaborative sales efforts at Kriz-Davis locations. Additionally, AFL's sales agent, Moehn Electrical Sales, was presented with the Kriz-Davis 2016 Award of Excellence for outstanding quality, service and integrity.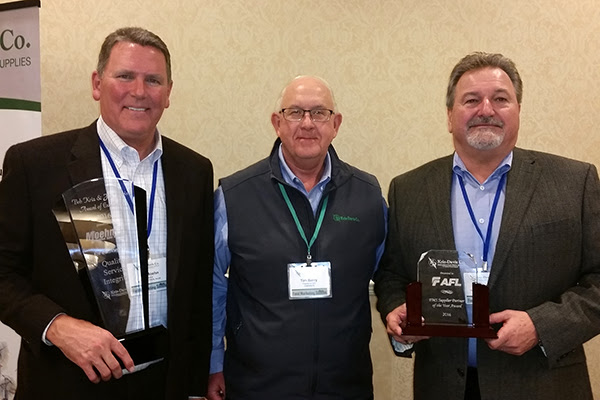 Click photo to download
"Kriz-Davis promotes AFL's products wherever and however they can," commented Patrick Nenno, regional sales manager for AFL. "Kriz-Davis understands the importance of manufacturers like AFL that consistently provide "Best-in-Class" service. This award is a testament to AFL's commitment throughout our organization—sales, customer service, cable and accessories manufacturing and shipping."
AFL has partnered with Kriz-Davis, a wholesale electrical supplier, for more than 20 years. AFL provides fiber optic cable, conductor accessories and connectivity to Kriz-Davis' 18 locations covering six states in the Midwest. Kriz-Davis serves the electrical utility, industrial/automation, electrical contractor and data communications markets. Headquartered in Grand Island, Nebraska, they are 100 percent employee-owned.
For additional information about AFL, its products and services, visit www.AFLglobal.com.